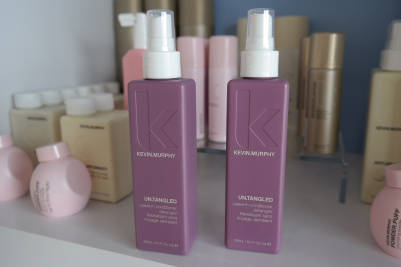 Yes, You Need Products in Your Hair
Hey gals! It's Deidre.
Every single day, I find myself educating clients about what I'm putting in their hair and why. It can be so overwhelming if a stylist uses 14 different things when styling your hair. I try and stick to 3. You don't want to overdo it, but you need products to protect your hair from the heat, give the style some hold, and tame any frizz or fly aways. Here are my 3 go-to products and why!
1. Prime your hair with a heat protectant.
When it's soaking wet, you should only be using one product in your hair- a heat protectant. If you add your volumizing product into wet hair, it will get diluted and come out with the water when you start drying. My favorite product to prime with is the brand new Kevin Murphy Untangled. This is a super light leave-in conditioner and also a heat protectant and detangler. If you're one of those stubborn people who refuses to put more than one product in your hair, make sure this is it.
2. Prep your hair with a volume boosting product.
Once you've dried your hair about 50%-60%, your hair cuticle will be opened up from the heat of the blow dryer. This is when you want to prep your hair with a volume boosting product. My favorite is Kevin Murphy Anti-Gravity Spray. Squirt this mainly at the root all over your your head. This product is light and won't leave a crunchy or sticky residue in your hair, but still does what it's supposed to. Also, it smells like a hint of lavender. Everyone loves the scent.
3. Finish your hair with an oil.
Once your hair is dry, add shine and tame frizz by finishing your hair with my favorite oil- Davines Oi Absolute Beautifying Potion. Use 2-3 pumps and concentrate mainly on the ends of your hair, working your way up the hair shaft so you don't get too much towards the top. This polishes off your style and leaves your hair soft and touchable!
So there you have it. Make sure you prime, prep and finish your hair to keep it protected, voluminous and shiny! All of the above featured products can be purchased at either of our two locations. Have something else you love? That's okay, too. This weekend, March 27-29, enjoy 20% off any Kevin Murphy or Davines products when you mention you read this blog! Your hair is important to us. Thanks for reading!
Have a great hair day,
Deidre