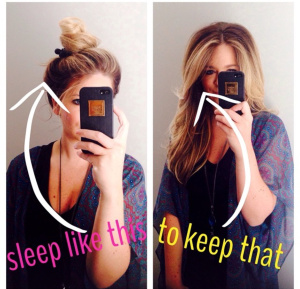 Washing Your Hair Every Day is SO 1998
Hey gals! It's Deidre. So, it's 2015 and people all over the world are finally realizing what my ex-hair stylist mother taught me in 5th grade. Washing your hair every day not only wastes time and energy, but it's not that great for those beautiful locks of yours. I've perfected the art of stretching my blowout as long as humanly possible, and I'm not ashamed to say I only wash my hair once per week. Before you get all bent out of shape and start telling me how oily your hair is, let me say that I know this is not feasible for every hair type. About 2% of the population actually needs to wash their hair every day. The other 98% of you can train your hair not to be so oily, so keep on reading because I'm going to teach you exactly how to make your blowout last.
1. Yes, getting a professional blowout makes a world of difference. If you've never had one, then start there. You might think it's too much of a splurge or makes you seem like a diva, but think about it- if it gets you 2 extra days of not washing your own hair, that's a few more hours of work or sleep or playing with your children. You're welcome.
2. Sleep with your hair on top of your head. Loosely tie it up and secure with a croc clip or a fabric hair tie. An old school scrunchie even works! The croc clip is my fav, though. (If your hair is too short to tie up, I recommend sleeping on a satin pillowcase)
3. When you shower, cover your head with a shower cap. If it's terry cloth lined, that's even better. You might feel like a granny, but this will keep your hair from getting any moisture to it. You have to have one.
4. Use a wide tooth comb and a little bit of dry shampoo after your shower. Fresh Hair by Kevin Murphy is my absolute favorite. I usually don't need the dry shampoo until day 5 or so, but everyone's hair is different. Try to hold off as long as possible. The less amount of product you add in each day, the longer it lasts, but you will eventually need the dry shampoo to get rid of the oil. You have to find the right balance. Using a brush will pull out the curl you got from the blowout. A wide tooth comb is a more gentle way to tame your hair each morning.
5. Use a little spritz of hair spray before you leave for the day. Nothing too heavy and not too much, but this will give a little grit to your hair and hold the style. I love Session Spray by Kevin Murphy.
6. Repeat those steps every day until you just can't take it anymore! Lucky for you, we've made it easy for you to make your blowout last. Stop by one of our two locations and pick up your Grand Ole Blowout Kit! It makes a great gift as well. Your hair is important to us. Try these steps and let me know how you do!
Have a great hair day and don't forget to follow us on Instagram and like our page on Facebook to keep up with all the latest and greatest from The Blowout Co!
xo Deidre