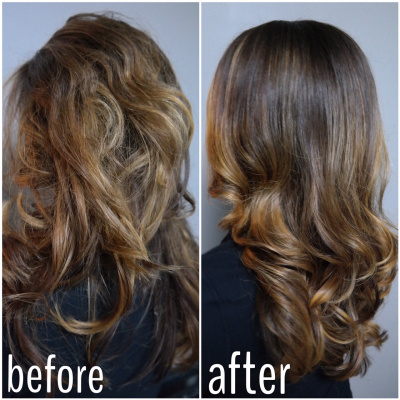 Confessions of a Blowout Junkie
There's no shame in my game when it comes to getting a weekly blowout, and let me tell you why. Before I became a Blowout Co. "regular," my hair was slow-growing, unruly and coarse. I took Biotin supplements for growth, and despite my hour-long straightening sessions, my hair was incredibly misbehaved. No spray, oil, mousse or cream was a match for my static-y frizz and asymmetrical waves. I am a workout fiend, and I would wash my hair every day after the gym, unknowingly stripping it of the natural oils that are critical to keeping it vibrant and healthy.
Then, in 2013, my friend Leslie Embry opened the Blowout Co., and I was instantly hooked. What started as a "special-occasion" treat became a "bi-weekly pick-me-up." Then, the "bi-weekly pick-me-up" became a "weekly have-to-have."
Now I am as dedicated to my weekly blowout as I am to filling up my car with gas. It has to has to happen. I prefer it be with Shanon on a Friday afternoon, but beggars can't always be choosers! 😉
Today my hair is healthier than ever. It's silky smooth, incredibly manageable and grows like wildfire. I've said "buh-bye" to Biotin and "see ya later" to my straightener and other damaging styling tools. I bid adieu to battles with frizz and said "so long" to struggles with dry, uncontrollable waves. I now have a little dry shampoo in my at-home arsenal and a whole lot of happiness that I carry with me and my fabulous head of hair. Let's just say that I never knew my hair had the potential to emulate Bridget Bardot before I discovered The Blowout Co. It was stopping short somewhere between Richard Simmons and Cher.
If you haven't gotten on the blowout bandwagon, I suggest you hitch yourself to that ride. You won't regret it!
Thanks for reading and I'm sure I'll see you in the chair next to me sometime soon!
<3
Dede